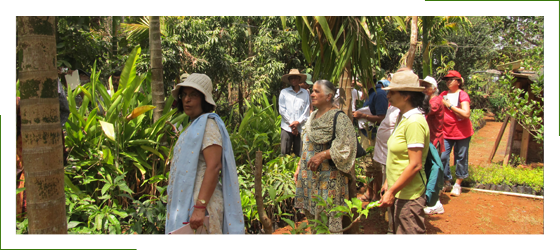 Farm Tour
Farm Tour is a blissful and enriching experience for our guests. The tour often lasts for 2-3 hours. Many interesting facts about the eco system, the inter-relationship and interdependence of the eco-chain are shared during the tour.
Planting Activity for Kids
This is an activity for kids which gives them joy, excitement and fulfillment. At times parents find it difficult to put an end to the session. The curiosity of the kids is seen from the questions they ask during this session. The kids are offered the plants by way of gift, which they promise to nurse back home. Imagine the satisfaction we here, and their parents must be getting.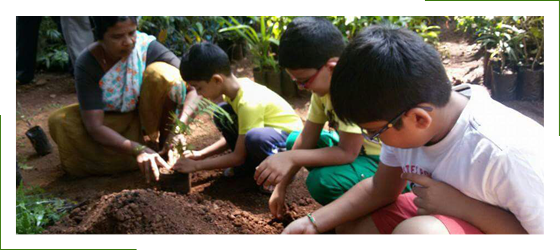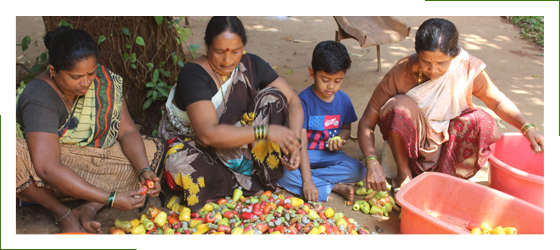 Harvesting of Fruits and Participating in Local Farming Activities
Most of our guests come from towns and cities. For them harvesting of fruits and soiling their hands while experiencing some farming activities itself is great learning. All types of grains, pulses, vegetables, fruits and spices that are consumed by the guests originate from land and farms in villages. Back home our guests carry an insight that they are dependent on their rural counterparts for their day to day needs.
Bird Watching Excursion
Maintaining a perfect eco system at our farm has encouraged innumerable birds to select our farm as their home. Bird watching excursion is therefore a very popular feature for our guests. The excursion is conducted by Ashish personally. His knowledge about birds, their habitat, their calls and the habits is often a matter of envy for the guests. Native and migrated species of Hornbills, a few rare species of Kingfisher and also so many other birds are regularly seen at our farm.
Dip in the Water Stream
Temptation of wetting oneself in rain, well or river is as natural as breathing for anyone and if the water is flowing yet crystal clear it is all the more joyful. Our most fortunate guests who get to experience this enjoyment are those who choose the monsoon period to spend their holidays with us. The experiences of dip in the flowing water stream can be enjoyed only during the period from June to September. The fulfilling experience can only be compared to MEDITATION when you are in tune with the creator.
Demonstration of Traditional Farming Practices
Many traditional farming practices are fast getting outdated. These include various practices followed in cultivation of paddy from transplanting to harvesting. Also after the paddy crop is harvested along with the paddy straw, it undergoes processes like threshing and dehusking; before we end up getting RICE for cooking. The villagers link up the farming practices with folk songs & festivals. Our rich cultural heritage is experienced in the traditional farming operations. We arrange practical demonstrations of these traditional cultural events for our guests, which is a real treat for them.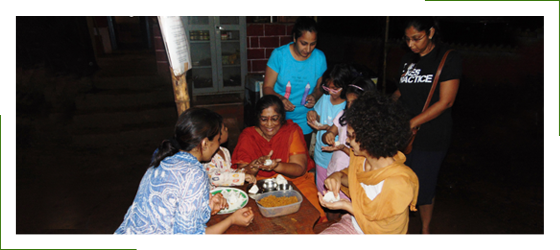 Cooking Sessions
The food served at ANS is authentic local & traditional. It has the mother's touch that makes it all the more delicious. Quite often our guests while enjoying various recipes during their breakfast and meals ask about the secret behind the delicious food. They are invited to join our team in the kitchen for informal cooking sessions. The recipes during such sessions have a wide range such as Ghavan, Dhirde, Thalipeeth, Aluwadi, Modak & so on.
Village Tour
Our village is well connected with cities like Mumbai and Pune. As such urban impact on life style, standard of living and culture is believed to be obvious. Very often during the duration of their stay at ANS, we arrange a village tour for our guests who are interested. During the stroll the guests interact with the villagers, get to know the general life style and their rich cultural heritage. Village houses though look simple, the immaculate cleanliness in and around every house is a feature that catches attention of one and all. The bliss on the face can easily be noticed during their village tour. They are impressed to see various flowers, vegetables & fruits around every house. An outstanding feature that is noticed by our guests is that every house in the village has a small plant nursery in the backyard. Financial stability of our villagers comes from the supplementary income coming from small scale plant nursery.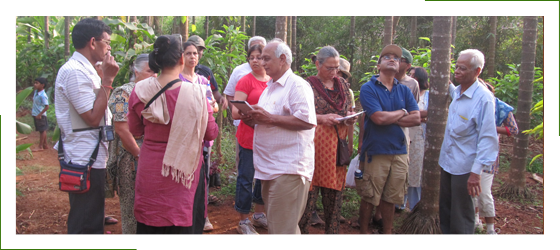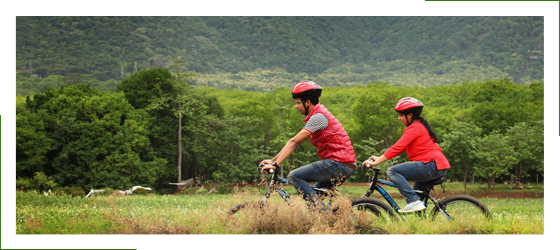 Bicycle Ride
Bicycles have disappeared from towns & cities a long time ago. Many of our urban guests who have experienced the pleasure of bicycle ride during their teen age quickly get enrolled for a bicycle ride. Leisurely riding on a bicycle, exploring the abundance of nature, enjoying the extravagance of colours, fragrance & shapes of wild flowers is an experience beyond words. The purpose of bicycle ride is to rediscover its pleasure. During these rides the guests exchange words with the villagers. Villagers are well aware of the financial status of our guests. Hence their enjoyment while riding on bicycle impresses them. We have found a strong message percolating down the line among village youth to rediscover the advantages of use of bicycles which are fast becoming extinct from rural area too.
Local Folk Dances
Rural lifestyle is a rare and interesting blend of culture, festivals, farming and unity. This is experienced during the performance of Local Folk Dances. These are performed by the boys, girls, men & women of village. During these events folk songs that are sung are composed by the artists. It is interesting to see them connecting with the supreme creator. Performance of local folk dances is losing its existence from the villages. We at Nisarga Sahavas make it a point to arrange these performances on several occasions to keep these cultural arts alive.
Archery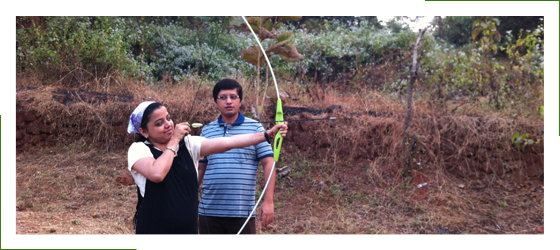 Rifle Shooting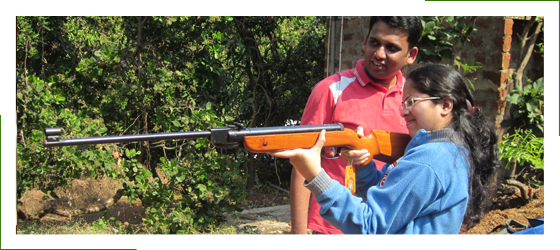 Places of Tourist Interest in surrounding of site with Distance :
Dr.Balasaheb Sawant Konkan Krishi Vidyapeeth, Dapoli
Dr. Balasaheb Sawant Konkan Krishi Vidyapeeth, formerly Konkan Krishi Vidyapeeth, is an agricultural university at Dapoli in Ratnagiri district of the Indian state of Maharashtra – 5kms.
Murud Beach – magnificent & safe beach

 
Murud is a small sea-coast village, located about 16 kms from ANS. The beach is relatively clean and pleasant. You can also go for Dolphin-watching through boats & do water sport activities – 16 kms.
Keshavraj Temple, Asud
Keshavraj is situated between Dapoli and AsudPul. You can access it via Dabkewadi after which you cross a small river. There is steep climb where you are greeted with the fresh water which is said to have been coming from a tree trunk and is present all days of the year. The Keshavraj idol is a must see – 13 kms.
Temple of Lord Ganesha on a hill top, Anjarle  
The Ganesh temple is situated in Anjarle village near Dapoli. It was first constructed with wood in 1150 AD and then reconstructed between 1768-1780. It is particularly known for the right-side placement of the Ganesha's idol which means it's trunk curves towards right which is rare – 28kms.
Harnai – lots of Forts and Wholesale Fish Market  
Situated 19 km from ANS, Harnai Port consists of two forts – Suvarnadurg and Kanakdurga. Kanakdurga is the land fort while Suvarnadurg is the sea fort. It was built in the Adil Shah rule and later captured by Chatrapati Shivaji Maharaj. Earlier there was a route connecting both the fort but now it can only be accessed by boat – 19kms.
TamasTirth Beach – Red Sea  
Ladghar is a lovely place increasingly becoming popular for its nice beach and an unspoiled landscape that will refresh your spirit and recharge your energies. This beach is known as "TamasTeertha" as some part of the sea appears to be red in colour. This beach has religious value and the bathing here is a big attraction. Also, it's a great spot for swimming, either in the sea or in the adjacent area where a river empties into the sea. Some part of the beach is covered with coloured pebbles and boulders, creating a beach-rock collector's paradise. For those wanting a more strenuous walk this is a spectacular piece of coastline – 13kms.
Parshuram Bhumi
Huge statue of Parshuram on the globe with a scenic view. The place has a calm and relaxing atmosphere. Nice place to visit – 16 kms.
Dabhol – Goddess Chandika Temple inside the cave, Ferry boat service at the creek.
Dabhol town is located on the south-west border of Dapoli taluka. Vashishthi river flowing from Chiplun merges into the sea at Dabhol forming the Dabhol creek. Chandikadevi Temple and a fishing jetty are the major attractions in Dabhol. The underground temple of Chandikadevi with a swayambhu idol is thronged by pilgrims every year during shivaratri – 28 kms.
Unhavare – Hot Water Springs
The Unhavare hot springs are situated in Unhavare Village which is 27 kms from Dapoli. The hot springs are rich in sulphur which is said to be good for skin. This is the only attraction in the area and people come from nearby villages to take a bath in the hot springs – 27 kms.
Panhale Kazi – Ancient Caves
The Panhale Kaji caves are located on the Dapoli-Dabhil Pangari road. The road goes right up to the caves. It is situated deep in the valleys and is surrounded by jungle and river which are filled with birds and reptiles – 25 kms.